Brrr!
Nothing like winter weather to make you grateful for your home sweet home. As the sun sets earlier and earlier, I am diligently working to help people either get into a home or to find a more affordable mortgage by Christmas. A home to call your own or some extra room in the budget: what a perfect gift!

Market Forecast…
Let's look at the facts.
Of course, everyone is concerned about the market. I often get asked, "Gina, how can I get into a home in this market?" Careful planning, budgeting, an excellent real estate agent and a knowledgeable mortgage broker can make your dreams possible. These days, the Vancouver and BC housing markets vary depending on who you get your information from. Let's look at the facts.
Jim Flaherty, Canada's Minister of Finance, recently was on CBC Radio.  He complimented Canada's proactive approach to the housing market, preventing a crash like those seen in the US or Spain.  He went on to state that he has no further plans to affect change on the housing market.  "We've done enough. I do not intend to do any more," Flaherty said.
After the recession, Canada's housing market rebounded strongly, causing fear that a crash could be imminent. However, the changes to mortgage rules made by Flaherty have calmed the fears of both analysts and Canadians alike.
The affect has been a cooler market and that means buyers are having a slightly easier time affording and purchasing properties.  As always, I caution you to remember that the market moves in cycles and changes can occur at any time.  Make sure your mortgage broker or real estate agent is staying up to date on what the market is doing in any given week.  A knowledgeable agents and brokers are important keys to home ownership success!


Personal Note…
Christmas is fast approaching!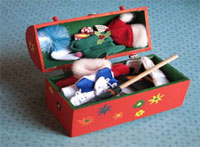 This year, I have been proactive with my shopping. I have already started shopping for the boys, hunting for the perfect additions to this year's gift: a tickle trunk. I know I may have just dated myself with that phrase, but I think it will make an incredible gift! For those of your born before 1996, Mr. Dress-up was a CBC staple, and he had a tickle trunk: a trunk filled with a whole assortment of dress-up gear! The boys will receive hours of entertainment, playing together and using their imaginations in new ways. The added bonus? My dad is coming to spend Christmas with us, and he is going to make a trunk from scratch for me. Hooray!

Business of the Month…
Krownhead Contracting
For home or business owners, there is nothing more stressful than renovating. I speak from personal experience. This month's featured business is Krownhead Contracting, Ltd., headed up by Nancy Jung. The team at Krownhead has over 20 years of experience in both home and commercial contracting. What sets them apart? Their approach to customer satisfaction. They communicate with their clients, ensuring their clients are satisfied with the final result!  Read More >>

If you or someone you know find the housing market confusing or daunting, take heart! I will gladly sit down and help you plan, understand the details, and reach your goal of owning a home, or upgrading the one you currently have.
I hope November is full of health and productivity.