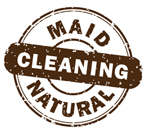 This month's featured business is Maid Natural Cleaning, founded by Amber LaPorte, Vancouver's Green Queen of Clean.  Amber is determined to abolish toxic and harmful cleaning solutions while proving that an intense clean can be accomplished using only green products.  When Maid Natural cleans your space, it means your home (or office) is free of bacteria and residues, imbuing the air with a fresh, clean scent.  Amber and her team will literally redefine your definition of clean.
The Maid Natural team specializes in every type of cleaning circumstance, including routine cleanings of your home or office, move in/move out cleans and even special detoxifying/naturopathic cleanings.  They are passionate about what they do, cleaning places which you didn't know were dirty – or even existed.  Plus, they bring everything with them: products, cloths, vacuum, mop and trash bags.
Maid Natural offers a free consultation for first-time clients.  So what are you waiting for?  Let the team from Maid Natural Cleaning redefine clean in your home or office today with safe, green products that work.